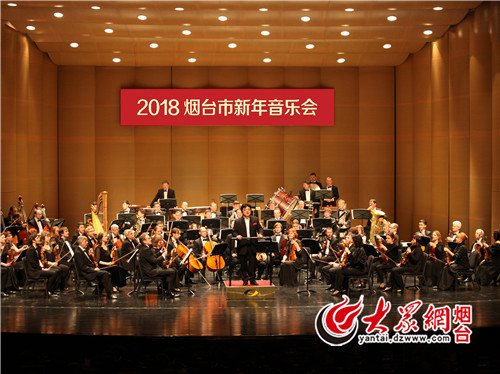 The last day in 2017, the pop conductor Li Biao conducted the Russian Novosibirsk Philharmonic Orchestra to perform a fantastic New Year's concert in Yantai Poly Grand Theatre. The Novosibirsk Philharmonic Orchestra is one of the three ace orchestras in Russia, and this concert was the first New Year's concert performed by a three pipes orchestra.
Until now, Novosibirsk Philharmonic Orchestra has performed more than 5000 concerts with multi-programmes and different styles, especially, they have unique and pure ways to perform songs written by Russian composers such as Tchaikovsky. At the night, the artists of the orchestra performed different kinds of classical music to the audience, including the western orchestra music, songs from opera, and the original music from China.
They played Polonaise from the Opera "Eugene Onegin", Op.24, Swan Lake (Suite from Ballet), Op.20a and Symphony No.4 in F minor, Op.36, etc. Encores included Radetzky March, Op.228 and Jasmine Flower, which gained high praise from the audience.
What's more, Li Biao conducted the Russian artists to say "Happy New Year" in mandarin to the audience, which made the audience feel really happy, making it a highlight of the concert.
The audience not only shared their feelings in the moments(a social platform like facebook in China), many of them but also stayed in the theatre after the concert, wishing to have a closer contact with the artists. "It is hard to believe that we can enjoy such a high level concert in Yantai." Miss. Li from Laishan District told the reporter. "It is a wonderful feast for us to welcome the new year, I start looking forward to the 2019 new year's concert now." Mr. Chen from Penglai District said.
Novosibirsk Philharmonic Orchestra has been well-known out-side Siberia for a very long time. It has become a cultural wealth of not only the city of Novosibirsk and the Siberian region but the whole Russia. According to the opinion of the critics, musicians and audience at home or abroad, the orchestra is one of the top orchestras in Russia and can be rated at the same level as the orchestras of Moscow and Saint-Petersburg. Set up in 1956 and headed by the People's Artist of the USSR, laureate of the National Award of Russia, professor Arnold Kats (1924–2007) till his decease in January 2007, had tours to big and small cities and towns of our country, participated in numerous international musical festivals.